Introduction
Persona Naval Press website provides a useful source of information judging from the number of its readers. The Nomination database continues to be well used. A new short database has been added, giving a sample of officers' ship careers covering entrance in 1868 to entrance in 1888. If this proves of interest it may be possible to provide a much larger coverage. The site is being updated for 2021 but previous posts have been kept and dated.
Persona Naval Press continues to welcome contributions to its site which may be sent to Dr. Mary Jones.
Letter from Polly Bence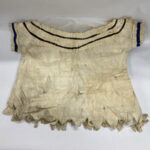 1/2/23 – We have received a letter from Polly Bence, a PhD student researching the ethnographic collections at Bristol Museum where they hold a group of objects collected by Admiral Francis Starkie Clayton that were firstly donated to Hereford Museum by his son Rev J. F. [Jack] Clayton. She is looking for anything that might shed light on his motivations for collecting and his connection to Hereford. Read more
It happened fifty years ago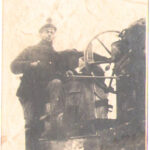 We are grateful to Kristen Fehlhaber who has reached out to us about the occasion when John Locke Marx thought he had sunk a German U boat on January 12th, 1917. Kristen has translated an account of the incident given by Heinz Ziemer, the Commander of the U-boat, and held in the archives at Cuxhaven. Read more
Conquest – A Story of Naval Officers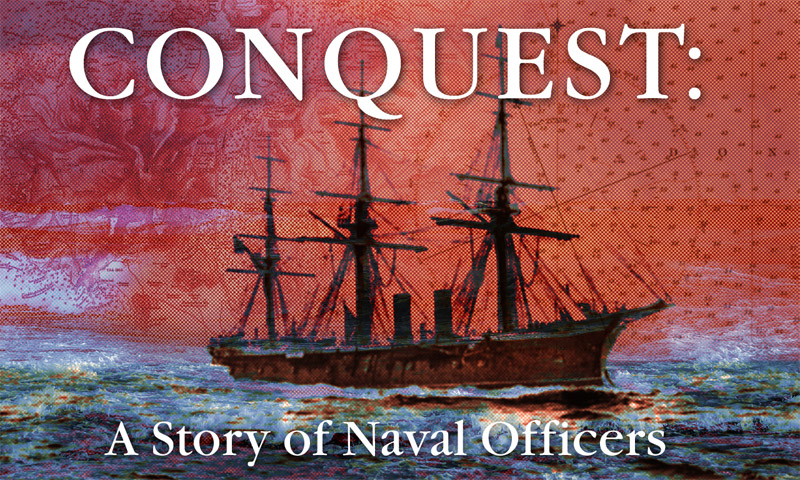 Dr Mary Jones has entertained herself during Covid time by writing a novel of historical fiction. The story starts with a group of Naval Officers who join the Royal Navy around 1865 and ends at the battle of Jutland. It will appear on Persona Naval Press, one part each month (a la Dickens without the expertise!) Names of people and ships have been changed but the historical veracity of personalities and events has been intended. Corrections will be gratefully received.
It is hoped readers might enjoy it over a morning coffee – or a gin and tonic before the sun goes down over the yard arm – others may just enjoy their drinks! There is a form for comments at the end of each part.
Part 1 – Cadets
Chapter 1 – The First Day
Chapter 2 – Love your Neighbours
Chapter 3 – Learning the Ropes
Chapter 4 – Know your Enemies
Chapter 5 – Band of Brothers
Chapter 6 – A Notable Ending
Part 2 – Midshipmen – Published February 1st, 2021
Chapter 1 – The Warts
Chapter 2 – The Flying Squadron
Chapter 3 – To Australia
Chapter 4 – To Sydney
Chapter 5 – Respite
Chapter 6 – Senior Midshipmen
Part 3 – Lieutenants – Published March 1st, 2021
Chapter 1 – Sojourn at Greenwich
Chapter 2 – Navy not the only thing!
Chapter 3 – At Malta
Chapter 4 – 'Man proposes'
Chapter 5 – God Disposes
Chapter 6 – Recovery
Published April 1st, 2021
Chapter 7 – Fractious
Chapter 8 – The Niger
Chapter 9 – The Congo
Chapter 10 – Interim
Part 4 – Command – Published May 4th, 2021
Chapter 1 – First Lieutenant
Chapter 2 – Quarantine
Chapter 3 – Lieutenant and Commander
Chapter 4 – Captain
Part 5 – Captains – Published June 1st, 2021
Chapter 1 – HMS Vogue
Chapter 2 – Life Moves On
Chapter 3 – Issues
Chapter 4 – The Build Up
Chapter 5 – War
Chapter 6 – The Day
Previous Posts
Kipper VC – The life and times of Rear Admiral Eric Robinson VC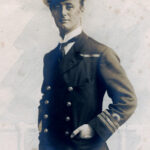 It is a delight when this website produces new information and makes new contacts between people. Carl Clayton (not related to Francis and Ralph Clayton) has sent us a letter and provided us with updated, revised articles on 'Kipper' – Rear Admiral Eric Robinson V.C. There are changes to the chapters on China, the Dardanelles and Dundee. The articles concern Rear Admiral Eric Robinson, a hero in World War One and World War Two. Admiral Robinson is certainly another in the line of great naval heroes, established by the education and tradition of the Victorian and Edwardian Navy, and who deserve not to be forgotten! Read Part One and Part Two.
13/6/22 – Chapter 5 has been revised in the light of new information discovered by Steve Mills about Eric Robinson's involvement in the secret Distantly Controlled Boats section of the Royal Navy between 1917 and 1918. The author is grateful to Mr Mills for permission to use this research to add yet another chapter to Kipper's career. Mary Jones thanks Carl Clayton for his interesting update to his earlier work on Admiral Robinson VC.
Letter from Gideon Haigh
17/7/21 – A letter from Gideon Haigh about the midshipman George Vernon who sailed with Ralph Lyall Clayton and deserted on a visit to San Francisco in May 1903. Read more
Letter from Joanne Van Tilburg
I have received a very interesting letter from Joanne Van Tilburg regarding the two paintings on the front and back of the log book of Midshipman John Warde Osborne, who was on the Flying Squadron Voyage of HMS Topaze to the Pacific from 1866 – 1869. Read more
Letters from Colin H Robertson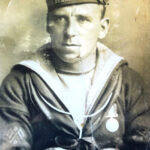 I have received two very interesting letters from Colin H Robertson which I think will interest our readers. Colin bought a copy of A Naval Life and found a transcript of his grandfather's, Leading Signalman Johnston Robertson, written account of the action on 12th January 1917 against a German Submarine in the English Channel. Read more
A Life Cut Short
All eight chapters of A Life Cut Short – The Edited Letters of Lieutenant Commander Ralph Lyall Clayton, 1885 – 1916 are up now.
Chapter One – 'Ever your loving son… Letters from School and Britannia' detail his time at Eagle House School and Marlborough, followed by Cadet training on the Naval Training Ship, Britannia.
Chapter Two – HMS Hannibal tells of when he was a young Midshipman on HMS Hannibal, one of the Majestic class of first class pre-dreadnought battleships.
Chapter Three – HMS Grafton – The First Year tells of his first year aboard HMS Grafton in 1902.
Chapter Four is about his time on board HMS Grafton.
Chapter Five is about when he became a senior midshipman in HMS Grafton and was first introduced to torpedo boats.
Chapter Six – Sub Lieutenant – Ralph arrives at the Royal Naval College Greenwich to train for the last of the exams which will qualify him to become an acting Sub Lieutenant.
Chapter 7 – The Beginning of the End – We pick up the story of the life of Ralph Clayton in June 1913 when he joined the prestigious Battle Cruiser, Queen Mary.
Chapter 8 – The Last Chapter – Sadly, we now come to the moment when Lieutenant Commander Ralph Clayton's life, in common with 1,265 others, was finally cut short at the Battle of Jutland on May 31st, 1916. Chapter Eight brings his story to an end.
Reply to William Alfred Marfleet Inquiry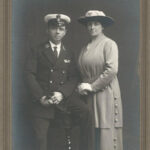 Recently we published a naval inquiry by Harold Peacock in Australia concerning his relative William Alfred Marfleet. Today we have heard the answer from a reader in Canada….Thank you Barrie Marfleet. Read more
Can you identify this insignia?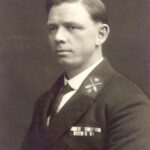 We have had a letter from Harold Peacock in Brisbane, Australia asking for help in identifying the insignia of his relative, William Alfred Marfleet, who served aboard the HMS Royal Oak in the Battle of Jutland in 1916. Can any of our readers help him? Read more
The Topaze Log Books of John Warde Osborne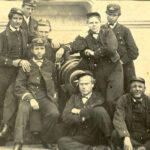 It has been very good to see how much interest and information our earlier inquiry about HMS Topaze and the log books of John Warde Osborne, has produced. Mike Pitts has kindly sent us a message: and Peter Klein has sent us photographs and details of an album. Read more
Updates – May 2014
A Life Cut Short is picked up again with the story of Ralph Clayton in Chapter Seven when he joined the prestigious Battle Cruiser, Queen Mary in June 1913. Read the chapter
Dr Mary Jones has written a chapter describing the development of the Victorian and Edwardian Naval Officer Corps, entitled 'Towards a Hierarchy of Management: The Victorian and Edwardian Navy, 1860 – 1918 in the new book, Naval Leadership and Management, 1650 -1950, published by The Boydell Press in 2012.
It has been encouraging to see how much the web site continues to be used. Dr. Jones is now working on the relationship between religion and the Victorian and Edwardian Naval Officer corps. She would be very glad to hear from anybody who has relevant material pertaining to the subject.
New Contribution
I have recently been contacted by Ms. McKnight and her students from Delaware, USA. They have enjoyed Persona Naval Press as a resource for their studies and have sent a list of maritime sources from their own research which they think may be useful to naval and maritime historians in England. I have put them on the links page.
Thank you students from Delaware! It is always good to know who our readers are.
The launching of HMS Swinger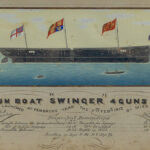 Our thanks to new contributor, John Debenham, who has sent pictures of the launching of HMS Swinger. She was launched at Pembroke Dockyard in 1872. Lt. Marx captained the gunboat Swinger when he was on the Australia Station in 1883-1887. Read more
Does anybody know what happened to this?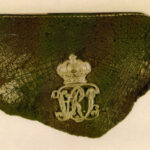 An item concerning a lost purse/spectacle case, mounted with H.M. Queen Victoria's monogram in gold, which was picked up by a member of the party sent by the Canadian government to Smith Sound in 1924. This was dropped by one of the 22 officers on the Nares' Arctic Expedition of 1875-6 in an effort to reach the North Pole. In the papers of the May archive currently held by Mary Jones. See documents
The Sledge Journal: 1875 – 76
Sir William May's Sledge Journal for the Nares' Arctic exploration expedition of 1875-6 sent by the British Government in an effort to reach the North Pole. For his part in this expedition May was promoted Commander over the heads of 60 Lieutenants.
April 24th – 30th, 1875 | May 4th – 9th, 1875 | May 25 – June 7th, 1875 | June 8 – 14, 1875 | June 18 – 25, 1875
Nomination Database
Click here to read an article about nomination and patronage which serves as a useful introduction to the sociological and genealogical background of Victorian officers. It also serves as an introduction to the Nomination Database which is available at the end of the article.
Can you help?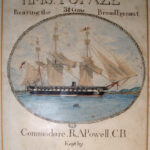 An intriguing question: Who painted the pictures? Can anyone help?
I have recently come across the log book of Midshipman John Warde Osborne, who was on the Flying Squadron Voyage of HMS Topaze to the Pacific from 1866 – 1869. Read more
Captain Charles Barker RN, 1811-1860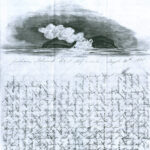 Persona Naval Press is pleased to welcome the following articles from a new contributor, Marjorie Rear, MA (Oxon) who has edited the letters of her husband's ancestor, Captain Charles Barker RN, 1811-1860.
The Fortunate Fellow – Captain Charles Barker RN (1811 – 1860) – This first article is an attempt to summarise, using the evidence of his own words, the life of a young man in the Royal Navy before that most important first achievement – a lieutenant's commission. Read this article
PAX BRITANNICA: The Parana – Much of naval life for Lieutenant Charles Barker in the years between 1839 and 1846 might be described as pleasant but unexciting. Excitement, when it at last came, proved more than a little dangerous. This article will attempt to show the Royal Navy acting – sometimes a little too forcefully – in its role of peacemaker in the interests of Britain overseas. Read this article
Marjorie Rear has now written the concluding articles about Captain Charles Barker (1811 -1860). They detail his involvement in the Peruvian revolution, the latest hostilities in China and diplomatic negotiations with Japan.
PAX BRITANNICA: (2) Patrolling the Seas – At last in command of his own ship, the ten years between 1849 and 1856 show Charles Barker carrying out naval duties, first, in the Straits of Malacca and, then, off the west coast of South America, in what one might call the "workaday" peacekeeping role of the Royal Navy. Read this article
Free Trade in the Far East – In the final stages of his career Charles Barker found himself involved in the latest hostilities with China and with diplomatic negotiations with Japan. Read this article
Lieut. John Marx and Captain Francis Clayton on the Australian Station, 1883 – 1887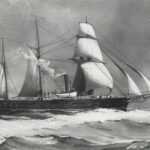 This article centres on the experience of two naval officers serving on the Australia Station. It gives us an insight into the work of the Station in the later Victorian era. Captain Clayton wrote to his wife every day telling her of the day's events and Lieutenant Marx kept up an intermittent Journal. Read this article