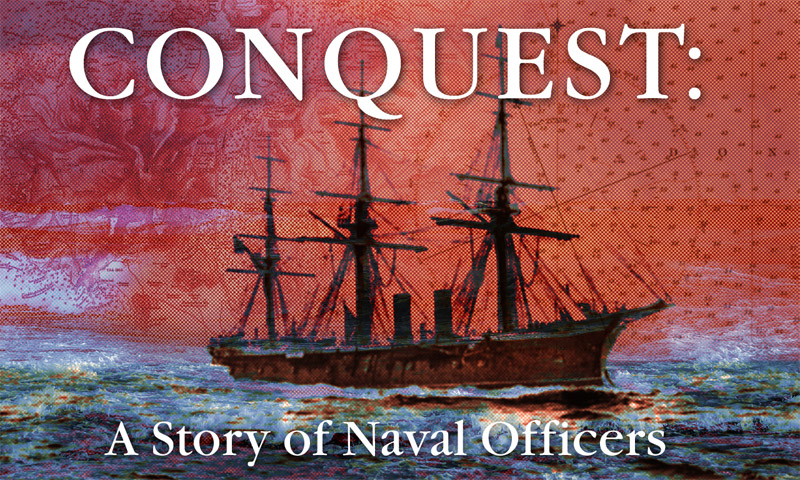 Part 3 – Lieutenants
Chapter 7 – Fractious
Ephraim stood on the deck of the battleship HMS Fractious and was impressed. She was 380 feet long and 58 feet on the beam. She was the biggest battle ship he had been on so far. She was iron hulled and had been built along the lines of Warrior, launched in 1860. Since waiting for news of his new appointment he had done his homework and discovered that although she had been commissioned in 1864, she had been recently re-armed with 12 nine-inch muzzle loading rifles in battery and two seven-inch and nine-inch MLRs on the upper deck. She had originally had four masts giving her a huge sail area, but she had been reduced to a more manageable barque rig now. She must have been wondrous in the full spread of her four masted sails thought Ephraim. He had already heard she was difficult to handle because of her great length but there were 709 men to manage her, and he looked forward to being part of it.
He even looked forward to getting up on the yards again, although there wouldn't be any of that sitting in the tops reading a book, her main mast was 86 feet high! It would be good to be part of a ship that would hopefully get to the top of the evolutions ratings. He remembered the embarrassment with the Flying squadron when Milesea made a mess of things – of course, he reminded himself, Milesea was not the only one to make a mess of things but really the Captain had been negligent in handling his lieutenants and the men had suffered for it. Good evolutions were the result of good officers; without them it did not matter how good the individual tars were, results depended on the quality of the officer contingent. He would take a new interest in gunnery which might lead to some promotion. It would be a good thing to see if he could get one of the new advanced courses at Greenwich. He heard Lieutenant Dewar had some innovative ideas up his sleeve and Captain Percy Trott was always coming up with something.
'Morning, Sir,' a Midshipman saluted as he went past.
Ephraim felt again the pride of being a Naval Officer and for the first time since Emily left, he saw some purpose in his life. To be part of this great undertaking of global conquest with these huge peace guarding ships was a privilege and an inspiration. He would make the Navy and Emily proud of him.
The ship was quiet as he went down to look for his cabin. Most of the complement were on shore. He nodded to the one or two officers sitting in the wardroom, as he made his way to the lower deck. He felt it was too soon to introduce himself, but it was good to be a a member of a civilized ward room again. The cabins were ranged along the ship's side, seven port, seven star board, with sliding doors opening into the wardroom at the centre. He found his cabin on the port side, with its encouraging label, 'Second Lieutenant E. Browne'. It was reasonably spacious at about 6 feet by ten, and held a bunk, a collapsible table, a washstand with jug and basin and an unusually high scuttle which let in a little light. In contrast the wardroom was remarkably light. It was under a large skylight placed beneath a similar one on the upper gun deck where the Captain had his palatial cabin aft, and the Commander shared his with a 68pounder gun. He was lucky to have got such a last minute appointment in his circumstances.
He put down his dunnage and went to look at the name on the cabin next to his. He could hardly believe it!
'Lieut. C. Sebold.'
What amazing good fortune! God again…?
As he went to look for the new Lieutenant, he wondered idly why Charles was Lieutenant and he was 2nd Lieut.
He went to the wardroom to check his mail. There was already a letter waiting from Polwhele,
Dear old chap,
I was so sorry to hear about Emily. Didn't even know you were married until we got the news in Shanghai. NO sooner got that, than the tragic news of your widower-hood reached me – terrible word! But it is that, isn't it? Can't imagine what you must be feeling but incredibly sensible of you to get back on the the horse at once. I hope it is OK to speak like that. Anyway, the Royal Navy will be all the better for having you back in it. The good news, or I hope you will think it is good news, Fraser and I will be in Valetta in a couple of weeks – bit of a refit and if you haven't gone elsewhere, we can get together – a few Notables for a weekend away or at least an evening out together. Old Henderson here is a great Captain – firm but humane, understands a fellow needs a bit of a break after the Chinese Pirates business – one of them got my leg. A good egg when it comes to leave. Tell you more about that when I see you.
Get a message to Absolute saying where you want to meet or better still just get over to the old ship as soon as you see her come in, if you are free. Heard old Sebold is with you, bring him along as well. A few Notables is better than none. Look forward to re-acquaintance.
Richard Polwhele
Ephraim was pleased at the thought of seeing Polwhele again and knew Sebold would be the same. He buttonholed him after breakfast.
'Got to find out when Absolute will be in then, and see if we can swing a bit of free time,' said Sebold. 'I see Mason and Bowen are there as well. Be excellent to get us all together. Paint the town red.' Ephraim was not so sure about Mason but was prepared to give him the benefit of the doubt. Three weeks later the five of them were sitting round Harry's Bar in Valetta with assorted alcoholic beverages and an advancing degree of bonhomie.
'How's your leg Richard?'
'Gentlemen, observe!' And Polwhele pulled up his trousers with a flourish. A long, jagged, angry looking scar with a degree of retained scabbing ran up the side of his leg.
'We boarded a Chinese sampan, and this little chink came rushing at me with an oversized sword, chopping at me as though it was an axe. He didn't survive my cutlass, but it was a close run thing. I lay on the floor of that Sampan while they fought over my head. Thought I was done for – so did they. Then Mason jumped on to the boat with a pistol in his hand, got rid of half a dozen others or so it seemed, and we took the Chinese boat into harbour. Almost fell over the Admiral on the way back. He was being ferried over to the Olympus, a real Chinese river mist had descended and Sub who was in charge of the boat wasn't expecting to find anything in his way. The Admiral nearly got tipped out. You should have heard the language!'
After Polwhele's story it was time for a yarn or two.
Sebold couldn't wait to tell the tale of how he was put in charge of a funeral party in Favourite to bury the remains of William Bendle, a stoker who had died,
'We put the corpse in a carriage and took it to Vourlah where the English Consul met us. Talk about Consul, he can barely speak English. He told us there would be one of these processions of Greek priests to meet us ad lead us to to the burial site. But the road got so bad the carriage could not get on, so we had to carry it another mile to the burial ground. When we arrived, the place was full of excited people coming out for the occasion. Lieut. Blake had gone ahead to organise things and I saw him signalling to me at the gate, so I pushed my way to him and he told me that the grave was much too small. So I thought we'd get those inside the gate to form up round the grave and we would just enlarge it a bit, but as soon as we tried, we opened up the next grave which stunk like blazes. I went in search of another spot where I was told I might dig a grave and having got our spot, found some men who commenced to dig. I posted the firing party with fixed swords as sentries and made my way back to Blake who was in great tribulation being nearly pushed into the grave with all the mourners. We got them inside the space, the people crushed in a good deal, but by dint of stamping on their bare feet they were kept back. After the first foot of grave had been dug, we came on skulls and the ground appeared freshly moved a little below. It was one festering mass of human remains the like I never wish to see again. The stench was overpowering….I reported the business to the Consul.'
There was a round of applause and some expressions of horror.
Fraser was going on about trouble in the stock market, was there going to be another South Sea Bubble? Apparently, he had caught a cold in Bahia. That day that he had made an investment in the local bank while others entertained themselves elsewhere was proving not to have been a good one. But the beer and wine continued to flow until Polwhele brought matters to a conclusion with a spirited rendering of the Song of the Western Men. At which the proprietor threw the Trelawny Notables out of the bar.
It was over three years since Ephraim had last been at Malta and Rear Admiral Sir Michael Greymor was in charge now. There was an even more relaxed atmosphere on the station. Diversions of the social round were popular. Ephraim went to Smyrna in Captain Henman's despatch ship with a group of officers from Fractious and the flagship. There was sight seeing at Ephesus, shopping and gift buying in the bazaars, fun at the pulling races in the Regatta (although Fractious officers won nothing and there was a lot of dissatisfaction from the way the Commander started the races) Diverting paper chases were held at the weekend and tea parties at the Admiral's, although Sebold complained that while dancing with Mary Greymor, he had 'more home truths put into me than I had from any other person in so short a time'. Ephraim thought it would do Charles no harm to know there might be some slight imperfection in him.
Apart from the inevitable reminders of mortality, '2nd Lieut. Cole killed himself by falling from the tops, Lt. Hocking nearly drowned when he fell in and his monkey jacket stuck half off,' Ephraim though this was the most satisfactory life he had ever had. He still had to stand watches, but now it meant taking routine command of the deck when the ship was at sea and particular command of a mast during setting and taking in of sales, command of a battery of guns when in action and increasingly, overall responsibility for the welfare of a section of the crew; something Admiralty were now keen on. He enjoyed the extra responsibilities of a lieutenant. He started to feel happy in the ship. The other officers were easy – even a card game where someone cheated and Culborne nearly came to blows with Sebold ended in a handshake. It was also getting easier now for him to eradicate the feelings of guilt when Emily came to mind. There was more concentration on the comfort of good memories and a certain enjoyment of thinking about the past.
And then something happened! Ephraim was at Admiral Greymor's monthly tea party and his wife was showing off the talent of her two year old son who could now recite 'Ba Ba Black sheep'. The guests applauded, and the little lad moved towards Ephraim and started to climb on to his lap. Suddenly, Ephraim could not breathe, he was shaking, his heart was thumping in his chest, sweat poured from his skin, he fell to the floor. The child started to scream, the mother fainted, the guests were too shocked to speak. The Admiral scooped up his child and gave the collapsed young Lieutenant one last look of horror. Ephraim was taken out. He spent the night in the sick bay.
'What was all that about?' Doctor McFarlane asked Ephraim next morning. The doctor looked grave as he sat at his desk,
'I saw something like that with fellows after the Crimea. What happened to you?'
Ephraim was up and dressed.
'Don't want to talk about it. No need. All right now.'
'Hmm – something must have sparked it off. Fellow like you with a life saving medal. Wouldn't expect it. Better apply for some leave. I'll give you a week and see how it goes.'
'Don't want it, doctor. I am perfectly well now. Going straight back to duty. As you say, quite unlike me, can't think what caused it!'
McFarlane took up his pen.
'We'll call it a recurrence of Malta Fever then.'
But it wasn't a recurrence of fever. Ephraim knew what it was, it had come back to him at once – it was that little scrap of flesh that he had forgotten all about because he never allowed himself to think of it. Never heard about it, never thought about it. That baby had killed his beloved wife. Yet yesterday, that baby had shattered him, mind and body. It had given him the sudden, debilitating conviction that he had a son!
For the next few hours he could think of nothing else. He had a son, what had they called him? Could he sing Ba Ba black sheep? Why had William not been in touch? How could it be? Perhaps he should have said something himself, earlier? But, before God, the child had been as good as dead to him. If there had been a baby and it had lived….? Where was it? Where could he find it!
But it had not lived! Medication in the sick bay brought him back to reality. Common sense told him that the baby had died as Lord Gail predicted, and he must give up his foolish and demeaning behaviour. Babies died and took their mothers with them. It was a fact of life – or death. Something a man had to face. Of course there was no child! Why the Admiral's two year old should bring on hysteria was ridiculous! The last thing he wanted was a motherless child! The vision faded, and sober reality was restored. He must put these thoughts behind him and concentrate on his new life. He had no son and in future would evade two year olds with black sheep. Sleep brought back his sanity.
Later next day, Sebold was holding forth in the wardroom,
'Well, seems there might be another shindig. The Admiral is talking of needing another couple of Lieutenants, I heard him chewing the fat with the Captain on the bridge. Seems the government are worried about trouble up the Niger, and Harford said they should send a man-of-war and a naval brigade, but I think Greymor is trying to discourage that – just wants to do things quietly – send a couple of extra frigates and a few more officers with bluejackets to do the dirty work. Harford said he could detach a couple of ships from Valetta if Admiralty would agree. Reckons you chaps have had it too easy up here, time to wake you up.
'Well, I wouldn't mind a bit of action at last, but I can't say the Niger sounds very exciting!'
'Ghastly climate,' said Hocking, 'Enough fever to wipe out a crew. Hope I don't get posted.'
It seemed that Polwhele had been right. Admiralty wanted punitive action on the Ashanti natives in West Africa who were threatening another revolt against British government.
'Oh, they're sharpening up their spears and polishing up their bows and arrows now, are they?' laughed Hocking.
'Probably polishing their Maxims,' warned Sebold.
'It's hilarious! They believe in something called the Golden Stool. A sort of sacred Ark of the Covenant. My cousin has been up there, was telling me all about it.'
Ephraim interrupted,
'Some of these tribal religions are worth looking at. You can see where ideas come from and sometimes they do relate to ours.'
'Oh come off it Eff. You trying to be a philosopher now?'
'Yes, and you trying to shorten me to 'Eff' now, won't deter me!'
'And you going off in a huff, won't deter me, either. Sit down old man.'
It was not long before the Admiralty decision was known. Ships were needed on the West Africa station to keep the peace between traders and local chiefs in the increasing troubles with the Ashanti on the Brass river. It resulted in a new commission for Ephraim and Sebold. They were to join the company in the sloop Freytus on the river Niger with Admiralty orders to supervise and if necessary quieten the natives. The local Chief was to be kept in order and, if required, removed from his position as tribal leader. There had been too many murders amongst the tribes locally. It was a far cry from the prospect of virtuous, comfortable conquest in a big British Fleet. Ephraim was disappointed. Sebold was animated by the possibilities of promotion.