Edited by Mary Jones
"Mary Jones has brought to light a vivid and revealing private view of the inner life of the Victorian Royal Navy as it definitely did not wish to be seen."
Professor N A M Rodger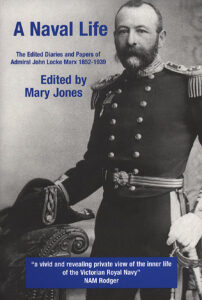 A Naval Life is the dramatic human story of John Locke Marx, who as a young officer grew up in the heyday of the Old Navy, with its gunboats, naval brigades and autonomous captains ruling distant seas. We see his rise as a mature officer in the New Navy, with its armed cruisers and battleships, its great Atlantic Fleet, and its professional Officer Corps. We learn how, as a retired admiral in the First World War, he took on a combat role as Captain in the dangerous Q ships, then was as active admiral in charge of convoys when that war ended.
In her meticulously shaped account, Mary Jones, re-creates in Locke the heroism and passion, the blind spots, weaknesses and vulnerabilities that truly invest him with life on the page. We feel we know him intimately as we follow a career spanning the salient moments in the development of the Royal Navy, from 1866 to 1917, from the Pax Britannica to Jutland.
At his death Admiral Marx left an archive of diaries, letters and papers. It is ironic, perhaps, that every page of his journal is headed 'private' (not least for the candid accounts of his sexual encounters). For here in the records bequeathed us is a chronicle important not only in historical terms. It affords us a profound social insight into Marx's era, and shows us what an impact naval life had on a man of Marx's distinctive personality.
Read reviews of 'A Naval Life'
Read comments from readers on 'A Naval Life'
Read extracts from the book:
About the author
Mary Jones is a historian whose chief interest is in the Victorian and Edwardian Navy. She has an MA from Exeter University centring on the Victorian Australia Station, and a Doctorate from Exeter centring on the Victorian and Edwardian Naval Officer Corps. She has written about Captain Francis Clayton on the Australian Station, 1884-1888 for the Navy Records Society and Admiral Sir William May for the Mariner's Mirror. She has given papers at the Maritime Museum in Greenwich and King's College in London. She has written on various aspects of local history.
She came to naval history somewhat late, as a retired teacher, and admits to having trouble with the hardware, but insists that it is the software of the personnel that is responsible for the quality of the service.
Other Articles about John Locke Marx
It happened fifty years ago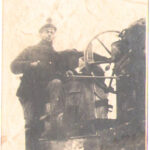 We are grateful to Kristen Fehlhaber who has reached out to us about the occasion when John Locke Marx thought he had sunk a German U boat on January 12th, 1917. Kristen has translated an account of the incident given by Heinz Ziemer, the Commander of the U-boat, and held in the archives at Cuxhaven. Read more
Letters from Colin H Robertson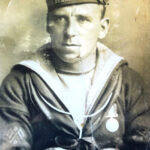 I have received two very interesting letters from Colin H Robertson which I think will interest our readers. Colin bought a copy of A Naval Life and found a transcript of his grandfather's, Leading Signalman Johnston Robertson, written account of the action on 12th January 1917 against a German Submarine in the English Channel. Read more
The launching of HMS Swinger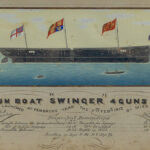 Our thanks to new contributor, John Debenham, who has sent pictures of the launching of HMS Swinger. She was launched at Pembroke Dockyard in 1872. Lt. Marx captained the gunboat Swinger when he was on the Australia Station in 1883-1887. Read more
Lieut. John Marx and Captain Francis Clayton on the Australian Station, 1883 – 1887
This article centres on the experience of two naval officers serving on the Australia Station. It gives us an insight into the work of the Station in the later Victorian era. Captain Clayton wrote to his wife every day telling her of the day's events and Lieutenant Marx kept up an intermittent Journal. Read more
Buy the Book from Persona Press
Readers of Persona Naval Press can now buy A Naval Life at discount. Copies may be ordered from Persona Press at a cost of £12.99 including postage and packing.
Orders and cheque to Persona Naval Press
Please supply ?? copy / copies of A Naval Life, ISBN 978-0-9553095-0-2 at £12.99 including P&P in the UK (add £4.00 per copy overseas)
Sum enclosed:
Deliver to:
Name….
Address….
Postcode….
Telephone….
Buy the Book from Amazon
Click here to buy A Naval life from Amazon.
Buy the Book with Paypal
To buy this book for £12.99 post-free (special offer, usual price £16.99)
To buy this book if you are a bookseller and BA member.
To buy this book if you live outside the UK (£17.00 postage included)