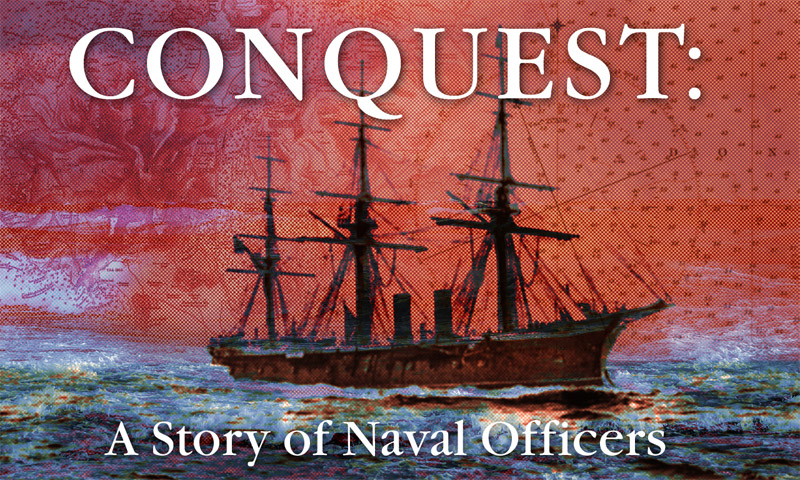 Part 2 – Midshipmen
Chapter 5 – Respite
From the excitement of Australia, the junior Midshipmen of the Flying Squadron returned to the tranquility of England for a brief respite before they resumed their careers as dignified senior Midshipmen. Sebold and Ephraim had been invited to stay with Lady Gail at Charworth House, her fine abode in Sussex, but first they must visit their respective families: Sebold's mother was delighted at the way her 'new' son looked. She had not seen him for two years, and now the handsome, eighteen year old who stood before her set up a thrill of admiration in her heart. She resented Lady Gail's ability to take her boy away in the short time she had to enjoy him. Admiral Sebold, Charles's now ageing father, was well content with his son who returned with the usual satisfactory report of 'sober and industrious', and knew he was well on the way to a successful future. Ephraim's father, always proud of his son, now found himself surprisingly proud of the invitation his son had received to spend some days at the prestigious Charworth. Polwhele looked forward to staying at home in Truro and continuing an exploration of the joys to which Bahia had introduced him. To that end he invited his cousin Gordon to join him for a few days. He knew Gordon to be something of a 'man about town' and he looked forward to finding possibilities in that direction even in London. Mason had met Wiberforce and was now visiting John Venn and the Clapham Sect with a view to considering whether he would be better off staying in the Navy hunting slaving ships or missionary campaigning against the slavers. Bowen was with his mother in Scotland and Fraser with his father in Westminster.
William Gail was waiting on the broad stone steps of the family mansion to greet Ephraim and Charles when they arrived. Sebold carried his new, closely packed valise of necessary requisites for visits to country house weekends, plus his fishing rods. He looked forward to demonstrating his riding and shooting expertise to Gail's sisters, especially the seventeen year old, who had come visiting Thebe with her father when the ship had been waiting for commissioning in Portsmouth. Ephraim was sparely furnished with a strapped travelling bag and a bundle of books. The idea of an aristocratic house party was new to him.
'Good to see you fellows again,' Gail pumped their hands energetically, 'Best let you settle in first and then I'll show you around.'
As they followed Gail up the impressive staircase with its wall of and past a wall of portraits, Sebold looked at him,
'What have you been doing with yourself, William? You are taller than both of us now. You've puts some muscle on. What happened?'
'Well, it didn't come easy but after one of the Subs sat on me and broke my nose, I decided enough was enough, a combination of walking the deck every moment God gave me and using Emile Coue – you heard of him? – mesmerism – 'Think it. Get it'. That worked. I started putting on the pounds. Lucky, mind you, Spifford was a whizz in the galley and Trafford only had to look at a fish and it came to him! And boxing. Look at that,' Gail made a fist, 'Remember what you told me about making fists, Browne, you'll be pleased with this,' and he punched a Louis xiv cushion which immediately gave up the ghost and shed its feathers.
'Ephraim, you're not still reading, are you? Told you it's not good for you. You are as pale and thin as ever. Father has made a new golf course – give you a round later – and we go hunting here with the girls any hour of the day or night.'
'Sounds good,' said Sebold.
When they had seen round the palatial establishment, devoted it seemed to sport, with its stables, tennis courts, new golf course and old snooker and billiard rooms, Ephraim felt completely worn out. 'A rest first or tennis?' inquired Gail after he had showed them their rooms.
Tennis could wait. Ephraim settled luxuriously with his book on a crimson silk-draped four poster bed in a bedroom looking out to the topiary garden.
Sebold readied immediately for tennis with Charlotte. A quick look in the cheval glass mirror, revealed a handsome young man in dazzling whites. He picked up his racket and went down to meet the girl on the court.
'You serve first,' she said, throwing him the tennis ball. He failed to catch it and ran after it awkwardly.
'Right,' he said as he picked it up.
He threw it dramatically up into the air.
'First service.' Charlotte laughed, putting him off his strike,
'Love fifteen,' she called.
This time he served the ball securely into the service area. Charlotte struck the ball fiercely back, narrowly missing his nose. 'Love thirty.'
It was a good shot for a girl. But she obviously did not know anything about placing the ball. He would have to show her. He would go for the corner of the serving square. She was on it like lightening. The return whizzed past his ear and hit the left hand corner of his court. He only just got it back. He sent one of his medium weight services. Came another hard return from her into the other corner and he failed to return it. This was not good. Perhaps he had better up his game. He sent his best service suitable for a girl. She made to swipe it and then dropped it gently just over the net. He nearly did himself an injury sliding on the grass to get it.
'Game to me.'
'Oh, it was going to be like that then! Gloves off!' He sent one of the swerving, deceptive services he reserved for his best opponents, but this time it seemed to swerve in the wrong direction. 'Love fifteen.'
The game continued but it was obvious Sebold had more than met his match. He played every trick he knew but the final score was not in his favour. She won. He could not understand it. She was so slender and frail looking, just like another version of the early William Gail – but she would probably climb the rigging at first go and never be sea sick.
She collected the rackets and came over to him,
'Thank you so much, I really enjoyed that. Come in and have some tea with William, then you can bathe and change for dinner.' Charlotte led him to the conservatory where tea was laid out and Ephraim and the older sister, Emily, were conversing.
'Have you read Samuel Smiles? I think he is so elevating and such a help for the poor?'
Ephraim was dubious. 'Don't you think he is a little elementary?'
'But you have to be if you are going to get the common people to understand these things.'
'Well, let us leave the common people to later,' Lady Gail had swept in gently,
'Anyone for billiards before tea? Or even,' she looked at Ephraim, 'Perhaps Bezique, Chess? Then, after dinner Charlotte will sing to us and we will have an enjoyable evening together.'
They went down to the drawing room where the butler informed the visiting Mids that should they wish for a carriage, it would be arranged for them, daily papers were always to be found, the post bag went out by special messenger at a convenient hour, and bridge tables were arranged in the afternoon for those requiring them. It all promised the most delightful time and Charles and Ephraim were determined to make the most of it.
Polwhele and his cousin Gordon were also determined to make the best of their weekend in London. They saw 'one of the best plays they had ever seen', 'Charley's Aunt', followed by Cornish oysters and 'one of the best meals they had ever eaten', at the Ritz. To cap it all Gordon was going to take them to an establishment he knew of in Soho where they might look for some late night entertainment. Indeed, it had proved a very good night's entertainment. Nice, clean, willing girls. Polwhele had learned to take every opportunity he could get for this sort of thing since Bahia and Sydney, but there had not been enough opportunities. Of course, it was disapproved of by all the best officers, and of course it was wrong, but when the Captain on Broomward had found out what he was doing, he had only said, 'Spend more time in the classroom, boy.' Half the officers were surely up to that sort of thing, anyway, and probably ninety nine per cent of the blue jackets! Poor chaps crimped and drunk hadn't a chance! What was a fellow to do once he had experienced it? Leave it alone – not possible! Well, perhaps when he got back from leave, he would try – after all he would be a senior Midshipman then.
The all too short respite came to end. Time for farewells and a return to the sea. Charles thought he and Charlotte had come to some sort of understanding. She was a wonderful girl despite her athletic ability threatening to outclass his, and her tendency to laugh at him. She had kissed him softly in the conservatory when they said goodbye and no one was looking. It was all he could do not to take her in his arms and have his way with her. Instead he had asked her politely if he might write to her? 'I am not much of a hand with the pen.'
'Then you need more practice,' she had said, and, more softly, 'I will give it to you.'
Sebold already had his next posting and was looking forward to the next two years on Formidable, working up to Sub Lieutenant and extending all the challenge and excitement of his future career, but how long would he have to wait until he could marry? When would he see Charlotte again? Perhaps Ephraim was right – the Navy wasn't everything!
Ephraim had been similarly successful with Charlotte's elder sister, Emily.
'What an incredible girl! She had shocked Ephraim at first. She had said she was an atheist! But then, they had talked. She had read Newman, she knew of Dodds, Swedenborg, Emerson, admired Blake. They had both agreed they were Platonists, not Aristotelians. She willingly acknowledged the higher forms and the power of beauty, she was moved by the poetry of Keats, 'beauty truth and truth beauty'. She had said he might write. He would write and convince her of the Christian revelation of truth and beauty.
Of the other Notables, Fraser had heard from Bowen – a quiet time in Scotland – just writing to Gifford – but Gifford had not replied yet. Mason had apparently been investigating the Roman Catholic church and deciding against it. Fraser had been considering the subject of his own finance and deciding it needed improving. Only Polwhele returned with difficulty. The nice, clean girls had given him a really bad dose of the clap. He must give it up as soon as he got over this one.