It has been very good to see how much interest and information our earlier inquiry about HMS Topaze and the log books of John Warde Osborne, has produced. Mike Pitts has kindly sent us a message: and Peter Klein has sent us photographs and details of an album.
From Mike Pitts:
The Topaze's brief visit to Easter Island is of historical interest, partly because any such recorded early trips there are quite rare and help us fill in the island's unwritten history. But its special interest comes from what they took back to England with them, most notably the large statue that now stands in the British Museum, known as Hoa Hakananai'a.
A surprisingly large number of lectures, reports, logs and albums were made by members of the Topaze crew about their experiences on Rapa Nui (Easter Island). Many were published at the time, or have been so since. Among things we know of that remain unpublished (by which I mean, peer-reviewed transcriptions in specialist journals), are a journal recording James Harrison's experiences on seven different ships, one of them HMS Topaze (the original I believe is with descendants in Canada); JL Palmer's Pacific albums, in the collections of the Royal Geographical Society in London; a logbook and notes kept by C Dundas, in the National Library of Scotland, Edinburgh; the log book of Midshipman John Warde Osborne, which you feature on your website (I'm pretty sure the paintings you illustrate are by Palmer); and a photo album, in poor condition, owned by Peter Klein, apparently a photographic record of a naval career which included a stint on HMS Topaze at the time she visited Rapa Nui. Klein's album has photos of the Topaze crew, which I reproduced in my Rapa Nui article.
In 2010, Taylors Auction Rooms in Montrose, Scotland, sold what was described, in full, as "Photograph Album, HMS Topaze In The South Pacific 1866–9 including HMS Topaze a 3 masted steam ship Valparaiso, Chile, Lima, Kanakas, Marquesas, Tahiti, Peru, the devastation and shipwrecks after the earthquake of 13th August 1868, Easter Island taking a statue and artefacts & natives of the Marquesas Islands, leather-bound." It was Lot 1488, and went for £54,000 to an unknown party. Although sold for its photos, the album was illustrated by the local press with an image said to be from the album, that is clearly a painting of HMS Topaze, again by Palmer. On the face of it, a pretty good buy!
Thank you Mike.
MIke Pitts' article, with photographs and diagrams about HMS Topaze and the Easter Island statues, can be read in the Rapa Nui Journal 43 Vol. 28 (1) May 2014
From Peter Klein:
Peter Klein has kindly sent us two photos of the Topaze crew. He has also given us details of the unique photograph album he possesses: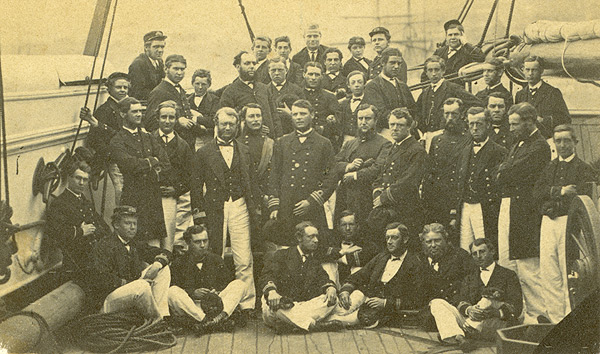 Powell & Topaze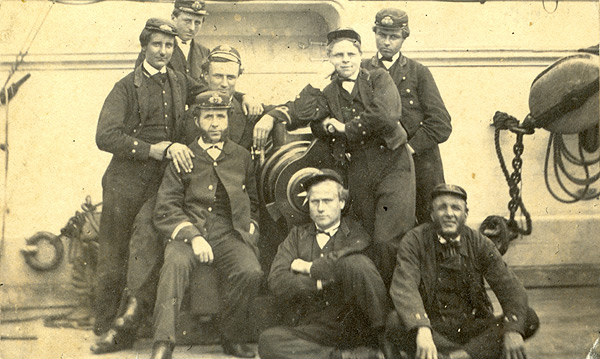 Junior Officers Topaze
I bought the album many years ago in an auction at Ludlow, the lot including other photographic items, and it may have belonged to a family called either Dawson, or Pudsey Dawson. The book is practically disbound, only the spine survives, and is frankly in a sad state, but it does seem eminently worth investigating, and it is also just of the period that you are interested in. I don't know that there is much there to "transcribe" exactly, but I have attached my list of the album's contents so you can see what it holds. I don't feel much significance can be attached to the order of the images, as they appear not to have been inserted chronologically at the time, and may indeed have been pasted in some years after the owner's various tours of duty. He does seem to have used the Suez Canal at least twice – 1871 and 1875 – and have been aboard both Thistle (1872/73) and Elk (perhaps about 1875). One of these days I may have the opportunity to check the ships' musters for Topaze, Thistle and Elk, as I'm sure there will be a name common to all three – but indeed perhaps more than one.
Thank you Peter
NAVAL PHOTOGRAPH ALBUM
c. 1865 – 1875
51 folios, 14¼ by 10¼ inches, no hard covers remaining, but fragments of gilt-tooled red leather spine, and the folios are gilt edged. All the photographs are albumen prints, and generally in excellent condition.
Contents:
Folio 1. Grubby and damaged. Five portrait studies of Arab subjects, by Luigi Fiorillo of Alexandria, each 10.5 x 7.0 cm., with numbered titles:
64. Sakie Arabe; 71. Négresse; 7. Pauvre Arabe; 65. [? Prestidigitateurs] Arabes [faded, but certainly Arab street conjurors]; 12. Arabes Priant.
+ one view, 15.6 x 10.9 cm., titled: Europa Point, Gibraltar
2. 21.3 x 15.2 cm. View titled: Rock of Gibraltar
3. 21.5 x 16.4 cm. View titled: Signal Staff. Rock of Gibraltar.
4. 21.5 x '16.4 cm. View titled: Esplanade. Gibraltar.
5. Three portrait studies of Arab subjects, by Luigi Fiorillo of Alexandria, each 10.5 x 7.0 cm., with numbered titles:
50. Bouriquier; 41. Famille Bédouine; 63. Fille Bédouine
+ one view, 16.7 x 10.9 cm., titled: Old Harbour & Moorish Tower. Gibraltar.
6. 19.4 x 24.7 cm. View titled: Street in Valetta. Malta.
7. 25.2 x 19.6 cm. View titled: Opera House. Malta.
8. 25.8 x 19.0 cm. View titled: Dockyard Creek & H.M.G.V. "Elk". Malta.1
9. 21.4 x 13.4 cm. Titled: Officers & Crew of H.M.G.V. "Elk"
10. 25.5 x 19.3 cm. View titled: Entrance to Canal. Port Said.
11. Seven untitled group and individual portraits of Arabs, including 6 soldiers mounted on camels. All 9 x 5.3 cm. approx.
12. 24.7 x 16.8 cm. Titled: Port Said. Mediterranean Shore.
13. Six untitled portraits of Arabs, one of two women. All 9 x 5.3 cm. approx.
14. 25.5 x 18.4 cm. View titled: Square. Port Said. 1871.
15. Five untitled portraits of Arab tribesmen and women. All 9 x 5.3 cm. approx.
16. 20.2 x 26.0 cm. View titled: Square. Port Said. 1875.
References
HMS Elk is known to have been at Malta in April/May 1875