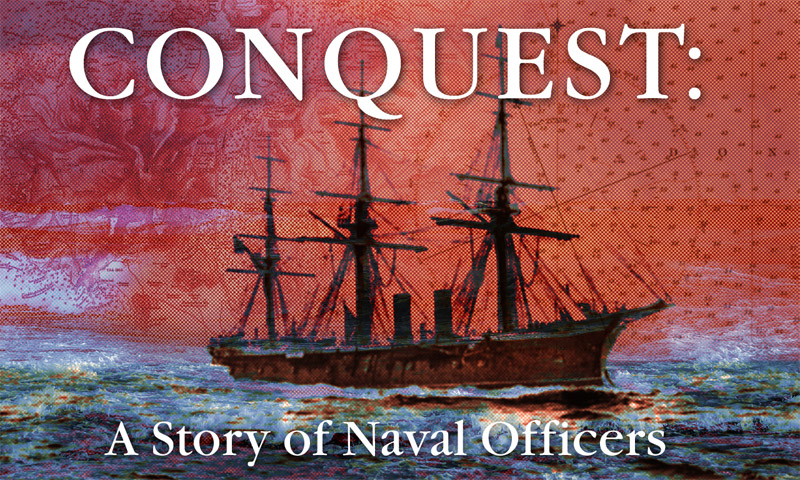 Part 4 – Command
Chapter 1 – First Lieutenant
Ephraim stood and gazed at his new corvette Peerless, as she lay in Jackson harbour at Sydney. She looked wonderful! She was a step up from the old Freytus, she was an 'up funnel, down screw' ship, barque rigged, coppered below the water line and rated five at Admiralty discretion. She was 220 feet long, 37ft beam, a typical offspring of the transitional state of the Navy, made entirely of wood but with compound engines and in her recent refit, fourteen old guns replaced with twelve faster and lighter 64 pdr MLR guns, and on her upper deck sat four of the 1" Nordenfelt guns and one 2.45 Gatling and a 1.9 pdr and a 16 pdr MLR. She qualified as a man-o-war. Serious stuff! thought Ephraim. She also carried outrigger torpedoes, a whaler, a cutter, a galley, a steam pinnace and a dinghy. No more worrying about rivers and how deep was the ship's draught, this ship would sail serenely through the islands and beat out a hurricane on the seas if necessary. Her sails were neatly furled on the jack yards close down to the deck and the clew lines laid close pointing to the wind. In the calm air, her funnel was demurely down, but she was ready for anything and so was he!
He had been nervous on the trip out, reading up all the details, she had 21 Officers, 35 Petty officers, 72 seamen, 29 boys, 43 Marines, an engine room establishment of 23 and 12 domestics, and he was to be First Lieutenant. How had this come about? It was amazing, a far cry from anything he had known yet. How would he manage? Well, he would just have to do his best. He lifted his dunnage and called for a wherry to take him over to meet Captain Turner. After all, he had been asked for!
Next morning, having taken possession of his cabin, breakfast eaten, and early duties accomplished, Ephraim filed into the wardroom with the other officers. Ephraim knew he would have four or five lieutenants under him, but he had no idea who they were. When he saw Fraser coming in, he was amazed. To have one of the Notables turn up here at the end of the world! He might have wished for Sebold or Polwhele but none the less he was grateful. Two older Lieutenants came in and then a younger one, a Sub Lieutenant who sidled in nervously, and a larger fellow, the surgeon Ephraim guessed from his attire, and one or two further officers he could not designate. Lastly, a thin angular figure came in and pressed himself into a corner as if wondering if he should really be there. He said nothing to those on either side of him. Ephraim idly gave him a second look. Was it? Could it be? Surely not? Stollman? Cecil Stollman? After all these years? Thinned down now and depressed.
'To order please, Gentlemen. We have much to do,' Captain Turner came in and briskly sat down. There were various salutes and expressions of good will towards him. He tapped the table and put out a pile of papers, 'Some latest surveys, gentlemen. Make yourselves familiar with them.' He looked around at his new crew,
'Gentlemen, I am pleased to welcome our First Lieutenant, Ephraim Browne. I am sure you will give him your valuable support.' There were murmurs of reaction and interest and then the captain settled in for his introductory talk. As Ephraim remembered, Captain Turner was not one for talking but he did give the salient information, which was more than some captains did.
'Gentlemen, we are here to protect British interests from the Antarctic circle to the Marshall Islands, and from the Cocos Islands to the Cook Islands – new officers, get out your maps. A total distance of 5,500 miles by 7,700 miles, with 4000 miles to the islands and back, which is our main theatre of activity. It takes us 28 days to get from Sydney to Samoa and Sydney to New Guinea – you will be seeing a lot of those places in your next three years. You'll be scared out of your wits and bored to tears. Make sure you have something to entertain yourselves with. Subs will be alright, they have their splendid journals, but I do not want to see too much card playing and drinking, and gambling will incur my total displeasure. The men are flogged for it. You will observe things are changing here, the Government is worried about the Russian fleet building up in Vladivostok, the French are expanding in New Caledonia and New Hebrides here, and the Germans want Samoa. Also, the Americans are now nosing around in the Pacific. Things used to be quiet here, the Navy didn't want any expense or bother but what with the new telegraph and all the rows and annexations taking place, we now have our own Admiral here in Admiral Lyon, and our own Flagship in Nelsonia, and we have our own 'outrages' – crimes committed in the area and which we have to deal with. Welcome to the new world, gentlemen. We are perhaps not the centre, but we are an important part of the new British Empire. So, gentlemen, 'mind how you go!'
As they stood up and saluted their compliance, the Captain turned to Ephraim, 'A word with you, First Lieutenant, in my cabin.'
Ephraim was glad of this early chance to speak with Turner alone and get his bearings.
'Browne, it is good to see you,' Captain Turner held out his hand. Ephraim saluted,
'Pleased to be here sir, but surprised, I wonder if my, as you once called it, 'unusual career', fits me for the honour of the post you have given me.'
'Browne, I wanted a man with a mind of his own – one prepared to take decisions and not afraid of unpopular ones. I figured you had shown that in Greatheart with your unorthodox marriage and subsequent career. The work is not always simple here and demands steady judgement.'
'You have officers here that are older than I am and more experienced.'
'I have indeed. You will manage them and make your mark with them according to your own lights. We shall be off tomorrow, and our first task is to annexe a small island for the Queen. We have taken several of those already and it usually goes well but I fear some of the natives are getting a bit restive.'
'Possibly they prefer to keep the island, Sir,' Ephraim smiled.
'Possibly, but we hope they enjoy the peace and lawfulness which we bring when they see the difference. We have put several troublemakers into the local prison, and they are beginning to learn that we can catch pirates and return blackbirds.'
'Blackbirds?'
'Native men and women and children taken for slaves, blackbirding they call it, some of these innocent looking craft are little less than slaving pirates. You will see.'
'I shall be happy to do what I can to put an end to that, sir.'
'We have our successes.'
Ephraim decided to risk a pleasantry, 'I think Emily would be happy to know that I am under your command, Captain.'
Turner stood up and gave a non-committal nod. Ephraim hoped he had not gone too far.
The first year started well. They were to visit New Guinea and annexe an island. The few evolutions essayed in the morning were carried out efficiently. Ephraim was impressed but knew he only had to send up an acknowledgement at this stage. The three engineer officers knew what they were doing, and Ephraim felt he could safely ignore what happened around the engine. It was clear he would have to take a strong hand on deck with the Midshipmen. They did not know how to raise their voices. He must get Masham to teach them how to 'hail' properly. The summer weather was hot but not unbearable, a dry delight after the Congo; the breeze taking them without screw at a steady twelve and a half knots through the water was a pleasure. Turner had provided them with good maps, and he could see the small island they were headed for in the Solomons, obviously not too tricky a passage.
'How long is it going to take?' he called up to Fraser, now the Navigating officer in the tops.
'Four hours, this weather holding.'
So, there was time for conversation, getting to know a few of the other officers. A Sub Lieutenant saw him and saluted as he went down to the wardroom to see who was about.
A long, lean back stood over the table in the wardroom, searching through papers, the back raised itself and turned. Ephraim was nonplussed. It was Sub lieutenant Stollman again.
'Good morning, sir,' Stollman held out his hand.
Ephraim struggled to find a suitable phrase. He mumbled something about Stollman being thin.
'Yes, got ill.'
'Sorry to hear that.'
'Yellow fever.'
Ephraim pulled himself together, 'Look here Stollman, have to admit I thought you were sacked after the Staines and rum incident. What happened to you?'
'Well, I was only a fag you know and after you knocked all the stuffing out of me, I kept quiet.'
'Well,' Ephraim extended his hand, 'Let bygones be bygones and we'll both serve together in aid of Peerless and the new Australia.'
He turned to the other officers. The two older Lieutenants, Masham and Grize, had just come in. The paymaster Cross and his assistant arrived and a junior Lieutenant Barnaby who had apparently excelled in the Training Ship. Two stewards handed round coffee. They seemed a gentlemanly lot, Ephraim thought gratefully as he looked round at his officers. They looked efficient dressed in the same uniform. That was getting common now as individual choice was being phased out by Admiralty. Fraser was wearing what appeared to be new uniform and new sideburns,
'Gosh, you look different,' said Ephraim. 'I mean well.'
'It's getting a decent posting. I know navigating officer isn't much thought of these days, with gunnery officers and torpedo officers making the running, but I like a bit of navigation.'
The surgeon was sitting morosely at a table in the corner, he had a scar over one eye which he had got in some battle with a name he could not remember. 'Ferguson,' said Fraser, 'Great chap if you need your leg off.' A bright young lieutenant came in with some negatives in his hand.
'Have a look at these, just developed!'
'Williams, our photographer, get your face ready,' said Fraser going up to have a look. 'You can send a picture to the family.'
The officers settled to various employment and duties. Fraser returned to his seat in the tops. Ephraim took out his new Moleskin to organise lists for the hours and days ahead. It was not long before they heard the cry, 'Land ahoy!' and the excitement of arrival took over. Bells sounded, whistles shrilled, the cables creaked, and the sea churned a different note. The Marines and Bluejackets checked their equipment ready for any action that might be needed. Captain Turner appeared at the gangway resplendent in gold braid and silver sword, to lead his men on to the beach to take another piece of the globe. But Monday Island was little more than an uninhabited knoll. There was no resistance, in peaceful silence it was added to the British Empire.
The bluejackets erected the Flagstaff, the Proclamation in the name of the Queen in a strong glass case was screwed to the flagstaff and another one was buried in a bottle, and the Union Jack was hoisted.
'Thus, is another bit of Great Britain taken formal possession of. It's happening all over the place! If there had been any inhabitants, we would have fired a royal salute,' explained Lieutenant Grize. The Marines and Bluejackets returned frustrated. It was not what they were there for.
Then Peerless was ready to sail on to investigate the outrages in New Guinea, 8 murder cases, 2 white men, 1 piracy and 2 missing ships to inquire about. So often did these things happen that Admiralty took formal possession of the word 'outrage' and the word went backwards and forward in official communication: 'another outrage in the Loyalty Islands'. In the case of the Loyalty Islands, Captain Turner informed Ephraim that the islands had been taken over by recalcitrant Methodists and he did not want to approach with a 'man-o-war' unless it was necessary. Ephraim could see the work involved. Captain Turner was already beginning to feel the strain,
'Before the year is out, I shall have white hair I expect, what with coral reefs and worries about natives and blackguard white men.'
They had to stop at Townsville for a smallpox scare on the way to New Guinea and it looked as if they were to be kept for quarantine. Thankfully not. Ephraim noticed that Stollman was shaking throughout with fear. There was something strange about the fellow. When they next weighed anchor there was a wind and a dead foul current. Ephraim could see that the men were depressed by events but there could be no slacking. He saw the Midshipmen were slacking,
'Freeman, get that sail up or I'll get up to you!'
'Marshall, you can do better than that! Get those clews in faster!'
'Spencer, no one can hear you. Hail man, hail!'
'Take over, Lieutenant Grize. Give them the benefit of your experience.'
The Captain told Ephraim that General Scratchley as governor of New Guinea was to be received in state when he arrived. The crew must be at their best. Ephraim spoke to senior Lieutenant Marsham.
'We want to see the yards well manned by the crew and the marines on deck as a guard of honour. Present arms as he steps on deck. Fire a salute of seventeen guns when he leaves.'
'I would remind you sir, that we have done this before,' Masham looked annoyed. Ephraim wondered whether he could leave it to Masham or should he take over, but he felt a First Lieutenant should only have to give orders and trust his lieutenants. He need not have worried, General Scratchley was pleased with the honours and congratulated the Captain on 'the order, regularity and precision of the ship'. Ephraim congratulated Masham. He received it with a quizzical look.
'All we have to do now is get through this visit without a scratch!' laughed Turner, and Ephraim smiled appreciatively.
Before they left the ship, Ephraim heard that another white man had been killed. They went to investigate but the natives that greeted them seemed friendly enough.
'Uncouth but finely made,' declared Fraser, 'Enormous mops of hair frizzled out in a wonderful way, all shouting at the tops of their voices.' They were good humoured and with shells and odds and ends to barter for tobacco and old clothes. The men could not wait to take advantage of the market and Turner gave them leeway. Suddenly there was a skirmish on one of the canoes, and the cry was heard, 'Murder! Murderer!' One of the natives accused another trader and wanted a revenge as befitted the situation. The captain ordered the accused trader to be taken prisoner and the blue jackets leapt to oblige. The native gave himself up without trouble. Turner decided to take a few canoes as a deterrent and as Ephraim had seen Harkness always wanting to do, hoped to have a talk with the local chief later and settle matters by getting the other murderer or murderers handed over to British justice at Port Moresby. If not, there might be the disagreeable alternative of destroying some of the villages, which was not much use, but better than doing nothing to try and stop this epidemic of murder. The native they had taken prisoner would be taken to justice and imprisoned.
'Why doesn't he shoot him?' complained young Barnaby. The Captain made it clear why not,
'The native had only allowed himself to be captured because he thought some trifling present would be all that was wanted and that would be the end of it. I was determined not to turn executioner. If he had been taken fighting it would have been different. But in cold blood I would not do it. I don't like this dirty work at all, the price of blood comes to about two shillings in small ornaments. They are all cannibals. Some of our prisoner's ornaments are bits of human bones.'
The Admiral agreed with the Captain's decision to arrange for negotiations next day. But when these failed, the First Lieutenant had to oversee the removal of the ship after three villages had been burned. Ephraim wondered if he would ever get used to it. This emptying a village of its people and their homes. This punishment of children. He thought of his son. Meanwhile there were further tasks on New Guinea.
Ephraim was introduced to the local missionary, Mr Palmer – a man worn out by good intentions and little effect, who offered to help as he was familiar with native interests and spoke many of the varied dialects. He took them to the village where a white man had been murdered and Captain Turner demanded the head from the local chief. It was the first ghastly, decapitated, trophy head Ephraim had ever seen, let alone held. They put it in a box and read the burial service over it aboard Peerless before giving it solemn burial at sea.
'The Admiral attaches great importance to getting back all the heads,' said the Captain, 'We have to go to Killerton Island next, white men and natives have been troublesome there.' Turner had no patience with the white men, 'Traders, troublesome European riff raff, if they get murdered, I won't bother about them and don't you.'
To add to their troubles some of the natives refused to come out of their village on top of the hill and Turner told Ephraim to order a few shells to be shot off, 'to show them they are not safe just because they are on top of a hill'.
Troubles continued and apart from the fact that Ephraim realised they were beginning to run short of food, there was little time to think of anything else but preserving the peace in this far off corner of the world. They heard there was trouble in Chief Loakino's village. They marched along the beach for a couple of miles to the centre adorned as usual with skulls. Turner told them the Queen's flag could not be hoisted where such things existed and the Queen could not keep them safe without her flag.
'Look at them running about like loons,' said Barnaby.
'It's because they are scared to touch them. You can see that,' said Grize.
Mr.Palmer had come along and organised some teachers to come from another island and take the skulls away.
'It is terrible really to see how one faith will overcome another,' he said, 'They have no understanding of reality.'
'Good to see there are some white men here with authority,' declared Fraser admiring Mr Palmer's efficient calm. They took time to rest while the skulls were removed. Then the Union Jack was hoisted, a 'feu de joie' was fired, three cheers were sounded, and the chief was presented with a tomahawk, an axe, some red cloth and tobacco.
'I think it's wonderful to see how far we have come. The British Flag at the other end of the world,' Lieutenant Barnaby stood up and gave another salute.
Some of the blue jackets laughed. The Captain reprimanded them. Ephraim thought the skulls were enough to scare anyone and a salute kept fear and chaos at bay.
They were still not finished with New Guinea. The last white man murdered was Mr Giles, a local naturalist landed on the island for the purposes of scientific exploration. The Admiral blamed his foolhardiness, but Turner found that his early sympathy with natives was beginning to disappear and the endemic perfidy of natives was becoming too much to tolerate. He burned down a couple of villages where he found Mr Giles' possessions and cut down trees as the natives would not yield up the murderers.
'The blue jackets are enjoying this,' said Masham.
'Rivalling Gladstone at the axe,' laughed Fraser. The mention of Gladstone took Ephraim and Fraser into political conversation. Ephraim was now finding it an interest they could share. British politics seemed to matter more out here.
'We need more Colonial Cadets for starters,' said Fraser, 'Train a boy up in the way he should go. Give the Empire a good foundation.'
'Australia will have her own Navy soon.'
Ephraim was glad to have Fraser aboard. He was proving a capable, efficient navigating officer who treated Ephraim, despite their Notable friendship, with the deference due to a First Lieutenant. It was Stollman who was the problem, the silent Stollman. He never betrayed the slightest antipathy to the First Lieutenant but never opened his mouth after that first conversation unless to answer a question. Never initiated a single sentence for himself. He looked like someone who had been in prison for five years, pale and emaciated.
'What is the matter with Stollman, Fraser?'
'Don't know, don't care!'
'Looks half dead!'
'Well, he has been been ill.'
'What happened to him after the Briton?'
'Went with Staines, I think, to Esquimault, surprisingly cushy number that was. Reckon Staines wangled it so he could keep his fag.'
'Stollman wasn't that sort of fag.'
'Don't you believe it – there were rumours. Small place Esquimault.'
Ephraim was appalled at Fraser's neutral attitude, 'It would have been reported.'
'Perhaps it was,' Fraser had no more to say.
Ephraim decided he would have to broach Stollman himself, a good First Lieutenant looked after his officers.
'Tell Sub Lieutenant Barnaby, I wish to see Stollman in the wardroom.' Ephraim thought it might not be inappropriate to offer him coffee. He ushered Stollman to a table. They sat and Stollman mumbled some sort of thanks.
'Look here, Stollman, I'm not going to beat about the bush, what is the matter with you? You behave as though you are only half here. Is it because you are only a Sub? And you resent me? I'm being honest and I would appreciate it if you would be too.'
'Course not.'
'Then what?'
'Nothing to say sir.' And Ephraim got no further. If Stollman had angered him when he was that bully in the training ship, he angered and frustrated him more now. Was he being deliberately offensive or had something happened to him? The man just sat and drank his coffee. Ephraim stood up.
'I must tell you a report will be going to Captain Turner to the effect that I do not consider you have the makings of a Lieutenant.' As he turned to go, there was a sound behind him, it seemed that Stollman was having trouble breathing, his shoulders were heaving, perhaps he was ill?
They were almost home, and Ephraim was looking forward to seeing the cutter arrive in Jackson Bay with the post. He would receive his first letter from his son. He had been in touch with William Gail's grandmother in Edinburgh who had shown no antipathy to him as a lost father but told him that little Ephraim was good at drawing and would draw him a picture. Ephraim had spent more time on that letter to his son than any letter to Emily or his father. He had torn up several versions, the first one had been much too formal – 'this is a great occasion and provides a moment for me to welcome you…' Hardly! 'Provides a moment for us to welcome each other', he was only a child, they were hardly equals! Perhaps he should send a toy or something. Teddy says I love you and that is what I would say if you were here… Goodness, what did he know of love for a child, one he had never seen, he might not even like him! Oh yes, he would – oh yes, he did. He clasped the precious envelope into his hand and took it to his cabin.