An intriguing question: Who painted the pictures? Can anyone help?
I have recently come across the log book of Midshipman John Warde Osborne, who was on the Flying Squadron Voyage of HMS Topaze to the Pacific from 1866 – 1869.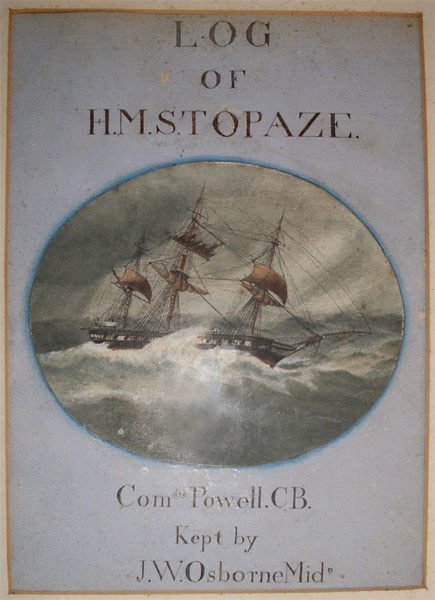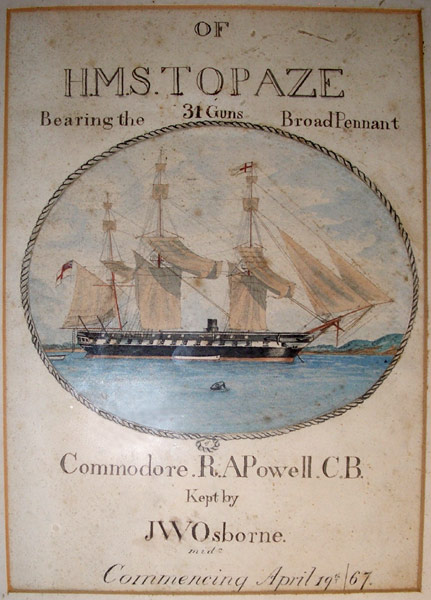 The artist J.Linton Palmer was the surgeon in Topaze from Jan 1866 – June 1869. The Royal Geographical Society hold some of his pictures, painted on this voyage.
There are two paintings on the front and back respectively of John Osborne's log book that appear also to have been painted by Linton Palmer. Looking carefully at these pictures, it is seems obvious that they are both stuck on to the cover of the log though the fact that one is closely surrounded by a painted rope disguises the fact. Family stories have it that there was an artist on board , who sold or gave them to the Midshipmen to smarten up their logs. The pictures are in the style of Linton Palmer's painting of Topaze rounding Cape Horn. The owner of the log book, Osborne's grandson, points out that if his grandfather had had the skill to paint such pictures, he would surely have continued painting as a hobby – the family have no other pictures painted by him. They would like to determine who painted the pictures. Does any reader have any further light to shed on this? Are there other log books extant from the voyage of Topaze with similar paintings stuck on to the front or back? Or, for that matter, other logbooks embellished by better artists on board than the Middies themselves?
Persona Naval Press would be very glad to hear from anyone who can throw further light on the matter.
Please contact, maryjones@fhs internet.com