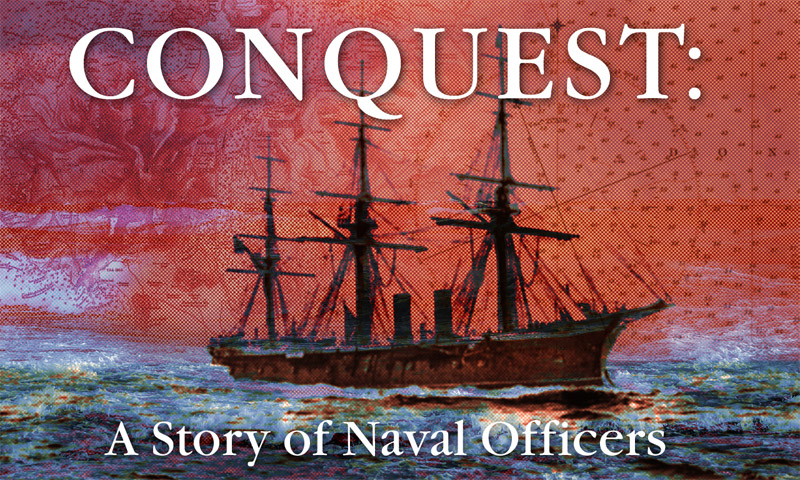 Part 4 – Command
Chapter 3 – Lieutenant and Commander
Out of the blue one morning, Captain Turner called for his First Lieutenant to come to his cabin. The Captain was seated in his chair with his foot swathed in bandage and liniment.
'Things have taken a turn for the worse, Browne!'
'Very sorry to hear that Sir, but I am sure Ferguson will fix it for you – you should not be incommoded for too long.'
'It's not the gout, man! It's the bloody islanders! They are at their games again with the blackbirds! Rumours are that men are being thrown overboard when they are more trouble than they are worth. The Admiralty think we are too short of ships to deal with it but between you and me, I think Lyon has some pull with their Lordships. Anyway, we are to have two new gunships and their Lordships think we have need of someone who has had some experience of work in the islands. Reckons you have been out here long enough to qualify. Bit surprised, myself, but long and short of it they are bringing up two gunships from Fremantle and Lyon has asked Admiralty to have you as Lieutenant and Commander of one.'
'Me?'
'Gone deaf, boy?'
'No Captain, just as surprised as you.'
'Oh, you'll be alright. The boat is a gunboat coming up from Fremantle. Been in dock for re commissioning. Seems our need is greater than theirs. So, young Browne, congratulations – Lieutenant and Commander.'
'Do you know who has the other ship, sir?'
'Chap called Polwhele, funny name, do you know him? Did some good work on the Yangtse apparently. Now, get off. Sort it out with the Admiral. He wants to see you. I'll sort out my damn foot!'
Ephraim could hardly believe it. Something like this coming at the right time – just when he was beginning to think of taking his career more seriously. An honourable life for a Christian man and a way to make his little son Ephraim proud of him.
Already he had seen and dealt with some of the depredations of the islanders and now he had a chance to be really hands on in this matter of justice for the blackbirds. The Admiral had been very helpful,
'Blackbirding is the illegal employment, often with abduction, of natives. The whole sugar trade of Queensland depends upon the Kanaka labour; Labour ships go round the islands recruiting natives and, of course, their earnings depend largely on the time taken to get back with a full cargo of labourers, so that the temptation to collect them by fair means or foul is very great. These labour ships are usually manned by one or two whites with a crew of islanders who have learned a little English – mostly bad language. The Queensland Government had gone so far as to put a government official on each labour ship to see that the natives have fair play. At this time in our history, we are running short of young, competent, lieutenants to build up this new Empire of ours into something we can all be proud of.'
'What a splendid chap the Admiral was!'
And what a splendid ship the new Gunboat was!
She was called Seagull. She was a 430-ton, composite screw gunboat measuring about 125ft by 22ft 6ins. She carried 2 –64pdr MLR and 2 20 pdr BL guns and a complement of 60 men. Her speed was nine and a half to ten and a half knots. Her officers arrived and joined him at Hope Bay. He was pleased to see he looked to have a fine ships company, all ABs over five years' service and special leave men. It would make his first experience of command, easier. His officers included Navigating officer, Lieutenant Shorter, who had already done good work in Apia with the natives, Sub Lieutenant Brent, Paymaster Dixen, Dr McKinder, Engineer Fairman, and Garlan, a gunner. And most importantly, Dog Seagull, the ship's pet and mascot arrived on board.
There was just time for a get together with Polwhele in Sydney before both men had to get to work.
'So good to see you, Pol', said Ephraim, 'What have you been up to?'
'Been fighting the Mahdi in Sudan, while you've been enjoying yourself in the Islands. Took those damn steamers up the Nile, expect you heard about them, if you have not you will! Mind you, Berryford was clever, organising the men to draw them up over the cataracts with hawsers using a sort of diagonal pull from a central line. Got scalded when one of the boilers exploded.'
Polwhele pulled up his shirt to show a badly scarred arm.
'Pol, you'll have to take more care! It was your leg last time!'
'Well, a chap's got to do what an officer does! Those blue jackets and marines and men from the nuggars were a marvel. We were just below the Habeshi forts, firing away when our boiler blew up, steam, smoke everywhere, the Sudanese stokers in the engine room were so badly scalded their flesh was hanging off in strips. Benbow was a marvel, he drew the fires and pumped out the boiler. Then he fashioned a plate and some bolts to cover the three-inch hole which had appeared in the side of the ship. It was too thin to take the pressure and then he had to bolt an iron bar across it. All this in a stifling hot engine room with bullets raining down on us. Of course, that's how I got this promotion. And so fast!'
'Mine was fast too! They really must be short of Lieutenants.' They laughed.
'Oh sorry, getting a bit careless in my old age,' said Poll as his hand caught the top of his wine glass and knocked it over, 'Just love this Australian grape though!'
Ephraim noted that he dropped some coins from his change when the waiter handed it over, 'Something wrong with his hand? Surely not?'
It was not long before both men were at work and looked forward to meeting each other again. Constantly on the lookout for illegal traders, it did not take long for Ephraim to be involved in a major incident. They were cruising to the Eastward of New Guinea, sailing along with the sun on their backs. Lieut Shorter sitting aloft in the masthead looking out for the reefs, which were very common, was feeling slightly bored until he sighted a ship,
'Sail on the horizon!' he shouted.
The next thing was to overhaul her and see what she was but as soon as she saw the gunboat, she altered her course and turned away.
'Right, raise steam to give chase, Fairman!'
It was not as easy as it sounded. They threaded their way through various reefs, constantly having to turn back and find another passage in the hopes of getting alongside her before sundown. They just managed to do so and commanded her to anchor. It was fortunate that Ephraim had taken Mr Hugh Millman, the Magistrate, on board ship to examine any labour traders they might meet before he went for the cruise. Having anchored the ship on the lee side of one of the reefs which was not above water, Millman went on board to examine the vessel. It was little more than a Dhow, but he found that they had about sixty boys, for forty of whom they had no interpreter, it was quite impossible for them to understand the nature of their engagement.
'It's obvious that we have caught this fellow red handed and he must not get away.'
'I'll take the Captain and mate on board now, and Brent, I'm going to send you on board to keep an eye on the others.'
'Yes sir, I see,' said Brent, looking a bit glum.
'We will see what this Captain has to say for himself.'
'Shall I send for him now, Sir?'
'Yes. We will get it over. Let the men bring him.'
When Ephraim had asked all the necessary questions and obtained all the information he could from the recalcitrant Captain and his mate, he gave his verdict.
'You are a pair of rascals and a disgrace to any country. I am going to send you into port with one of my officers on board. If you try to get away during the night, I shall sink you.'
The Captain of the disgraced ship, with a face like thunder slouched off muttering oaths and threats under his breath.
'Did you hear that Shorter? …Something about waiting until he could get hold of me, and cursing me, my ancestors, home, possessions and anything else.'
Shorter smiled,
'Well, you have saved a few lives there, Commander.'
Millman then started the job of making out the numerous certificates that were necessary. This occupied everybody on board the Seagull who could write until midnight. Then Ephraim sent the Captain back to his ship on his giving his word of Honour that he would 'play no monkey tricks' and would loyally support the officer being sent back into port with him.
About midnight that night he went to bed thoroughly tired out but satisfied that he was at last contributing to God's commandment to 'walk justly' before Him. The Navy held more attraction for him than ever as it supplied the wherewithal for moral ascendancy. After another day at the masthead conning the ship and half a night spent in making out the necessary forms, he was going to stand no further trouble.
'I have told the Captain of the Forester if he tries to get away during the night, we will sink him,' he informed his officers.
He had hardly been in bed for what he thought was five minutes when Brent came running down and reported that they were throwing coca-nuts overboard from the Forester. Ephraim went up with his binoculars and saw, to his horror, it was men they were throwing overboard. There was no land for them to swim to. They would simply be drowned or eaten by sharks, so he called away the boats and the men went away in their jumpers, not having time to put their trousers on and proceeded to rescue the men. They picked up seventeen or eighteen, but more than half the forty men were missing when they finished.
The next morning, he sent Sub Lt Brent and four men to take charge of Forester and provided them with pistols, handcuffs, and irons in case of necessity. In the event, Brent took the Forest King safely to Brisbane. He had some trouble with the mate but when he commandeered all the liquor on board, and threw it into the sea, there was no more trouble.
Ephraim had taken his first decisive action as Lieutenant and Commander, and it felt good.
He had to return to Brisbane to be available for the Vice Admiralty Court of Inquiry into his actions about the Forester. He was gratified when Peerless came in and Captain Turner told him, 'You have done a plucky thing taking the Forest Prince Browne.'
Not everyone was pleased with what he had done. The vested interests of the traders were threatened and feeling ran high against him in Brisbane. Douglas, Chief of Police warned him not to go into the main streets in his uniform. He had to take a back street to get to the Court. It was a great cause celebre in Brisbane – three barristers were told off for the naval side, including the Chief Justice's son. The famed lawyer, James Power stood for the prosecution. It was reported in the local papers,
The case of Regina v. the owners of Forester…
In this case the owners of the Forester, which was recently seized by HMS Seagull, are charged under the Polynesian Kidnapping Act with decoying South Sea Islanders for employment to Queensland, and the action is for the condemnation of the ship, her goods and effects, as forfeited to her majesty, The Defendants, on the other hand, claim the restoration of the ship and £5000 damages for her restoration. The case is likely to occupy the court for several days.
In the event it took three days, 'The trial was a troublesome affair. I thought at one time it was going against me but nil desperandum we pulled through in the end,' Ephraim told Polwhele, whose gunboat Kite was in Brisbane.
He enjoyed the chance to chat with Polly who had some surprising news,
'I'm getting married!'
'Never!' Ephraim was astonished. How could that be? Pol who had never suggested there was any such a thing as falling in love, who never gave any indication of wanting something other than a momentary pleasure, how had such a thing happened?
'She's called Lily,' he said, 'She lives in Brisbane with her parents. I want you to meet her.'
Did her parents know about Polwhele? Did they know what he was like with women? Surely they did not. How would he feel if they sat somewhere having tea together and Pol was imposing this lie upon them? Impossible!
'Well, Poll, I am glad for you but is this wise? I do not think I will be able to meet her. I am back in Farm Cove tomorrow.'
'Oh, come on, there is plenty of time. I've told her you will come. She wants to meet you.'
What sort of girl was this that wanted to meet men at once?
'Have you told her all about yourself?'
'A suspicious look came over Polwhele's face, 'What do you mean, all about myself?'
'Well, you're not exactly a virgin!'
Pol's face relaxed into laughter, 'Oh that. What man is?'
'I was.'
'Oh, you,' the laughter disappeared, 'Are you serious?'
'Look Pol, I'm not going to beat about the bush. Either this girl is a decent girl and wouldn't want to marry you if she knew, or you haven't told her, and that's not honest. I'm sorry but you've sown too many wild oats to make a decent marriage. I'm not being as horrid as I sound, you are my good friend Pol, and I admire you, but you are not cut out for marriage. It will not be successful, neither of you could be happy.' Ephraim was settling in for a long and comprehensive examination of the problem but Polwhele was not. In one angry action, he picked up his drink and threw it at Ephraim. 'I'm not staying for this!' and he rushed out.
'Pol, don't be like that …wait.'
He did not see his friend again while he was in Brisbane, and returned to the work with Seagull in Sydney, but he still thought about Pol. After all, he had not met the young woman and did not know what Pol had told and not told her. He wondered if he had been too hasty, too condemning.
The boat work in the islands was demanding as ever and took his mind off Polwhele. Admiral Lyon sent a private note to Ephraim asking him for a description of Noumea and signs of any French activity in the area. The struggle for new colonies was mounting – Americans and Germans were arguing over Samoa, and French officials in the New Hebrides area were trying to get what they could. Ephraim's report when received prompted the grateful thanks of Admiral and Admiralty.
I am directed by their Lordships to convey to you, and to Lieut H.H. Shorter, their appreciation of the zeal and care shown in making this sketch survey and admirable report on the defences of Noumea and New Caledonia which will be of use to the Hydrographic Department.
This encouraged the Admiral to give him, as Commander of a gunboat, new instructions with more autonomy:
You will act in harmony with His Excellency the Special Commissioner. You must in each case decide for yourself as to the course you will adopt, for the responsibility rests with the Naval Officer for every action taken by him.
Special attention is drawn to the Station Orders, as to your dealings with the natives and to the Pacific Act. While protection to legitimate traders is to be given, wrong doers are not to be supported, and natives should be protected from the lawless acts of white men….
The main object of your service in the North is to supervise vessels and trade where civilization and barbarism are in contact and to promote good understanding and good order. It is hardly possible to overestimate the value of successful efforts to establish friendly relations with natives.
You are to visit especially those ports frequented by traders and also mission stations, and you are to acquaint me of your actual and proposed movements by every opportunity and always leaving word at the last port of call where you have gone.
In pursuance of these orders Ephraim had all the usual troubles of Island work. He had to investigate the murder of Mr and Mrs Jebb who had been killed, and had their heads cut off by natives. Ephraim saw to it that their bodies were buried. He got nothing from the natives he spoke to. They tried to attack him with spears as he returned to the ship. He fired shots at them and they dispersed. He was surprised at how little he was disturbed by the sight of the headless bodies. Was he getting too used to this work?
Certainly, it was becoming more dangerous. A certain Mr Gellett had been killed by natives near St Agneau, a mountainous area with a scrubby beach. Ephraim went to investigate. The natives on the beach were shy at first but when they came aboard Ephraim gave one of the natives a present of tobacco and they brought yams off their canoes for him.
'We'll land this afternoon Shorter and see what we can find out,' Ephraim said. He took a covering boat and went to meet the natives. He was within 10 yards of this boat with three of his party, when he met the native to whom he had given the tobacco in the morning. He handed him some more tobacco for things he had brought down. The native took the tobacco with one hand and with the other, struck Ephraim over the head with a large trading knife. Dr McKinder who was close, fired a shot but the native jumped into the bush and disappeared. Several other natives who had been noticed hiding behind rocks also disappeared.
The incident was a nine day wonder, rumours and articles in the press abounded,
'Browne had been killed! Browne had lost an arm! Browne had shot a native!'
Ephraim 's head bled severely but McKinder made a good job of bandaging and staunching the flow. When Ephraim got around to reporting the incident he was too late for compensation.
As Admiralty continued to deal with the problems of the far-flung elements of the British Empire there was much of Pax Britannica still to be undertaken by the transitional gunboats of of the Royal Navy. Increasing numbers of ships meant increasing need for more Commanders and Captains, these were good years for promotions. Ephraim's commission in Australia was coming to an end. After a spot of home leave, he looked forward to his next assignment. A big warship perhaps ? He was warming to the task. This was why he had joined the Navy – to be part of the God given task of civilising the Empire. What higher or more noble and honourable task could a man have? Justicia indeed!
And what about the task of being a father? He looked at the collection of drawings and letters he now had, and which went everywhere with him. He would pay attention to that when he got home.