UPDATE: I have received two very interesting letters which I think will interest our readers:
Received on Sunday, April 26, 2015
Dear Doctor Jones,
With reference to chapter fourteen in A Naval Life,
I have for some months been trying to find out why my Grandfather was awarded the DSO for action against a German Submarine in the English Channel on the 13th January 1917.
My Grandfather died in 1953, two years before I was born and my Father who passed away recently never spoke of his Father's war time experiences.
After many hours over several months searching the internet, I could find no reference to the date engraved on his medal. The engraving reads 22583 J ROBERTSON LG SEA ENGLISH CHANNEL 13 JAN 1917
However, his Certificate of Service reads "D.S.M. awarded for action with German Submarine on 12 Jan 17"
I have all the original documents relating to his Naval Service.
After some time, I realised that in some cases Q13, H.M.S. Aubrietia was referred to as H.M.S. Aubretia, spelling without the 'i', and on a subsequent internet search using the latter spelling, found your book, A Naval Life. I bought a copy and you can guest the rest. On page 250, an actual transcript of my Grandfather's written account of the action on 12th January 1917. I really could not believe it. No wonder I could not find an account of the 'sinking' of the U boat on any site as officially it did not sink even with it's coning tower blown off!!
Please let me know if you would like further details of my Grandfather's other encounters in the war.
I wish to thank you for such a wonderful book and giving me such pleasure finding out so much about may dear Grandfather, Johnston Robertson. I attach his photograph with his D.S.O. (see below)
Colin H Robertson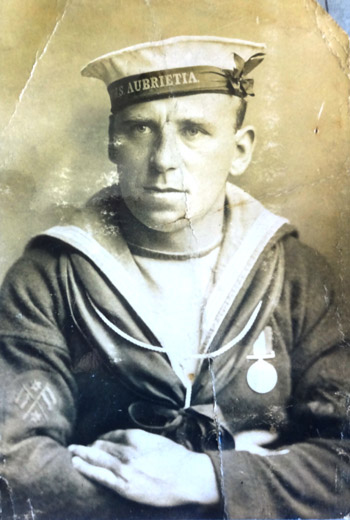 Johnston Robertson with his D.S.O.
Received on Monday April 27, 2015
Dear Dr. Jones,
Thank you so much for your speedy response.
Please feel free to use my correspondence as you wish.
Do you by any chance have a picture of HMS Aubrietia? I have a picture of a vessel in my Grandfather's effect but unfortunately there is no indication as to its name. I do not think it is a Q ship however. He served on a number of battle ships including HMS Weymouth. This was one of the ships involved in the Battle of the Rufiji Delta, 1914 -1915.
My Grandfather's record shows that he was wounded 12th December 1914 during this action. He received a bullet wound in the right arm.
I attach two pictures, one the vessel, not a Q ship I think or the HMS Weymouth as that had four funnels. The second in my Grandfather with an unknown officer and a lady. Is that JL Marx?? (see below)
Thank you once again for you marvellous effort producing 'A Naval Life' and responding to my email.
Colin H Robertson
QUESTIONS:
Can anyone help by identifying the ship in the photograph, or the officer standing with Leading Signalman Robertson?
Thank you Colin for such interesting letters and a chance to add another piece of information to our historical understanding.