Received on June 16th, 2020
Hello Mary,
I am writing in response to your query regarding the paintings of HMS Topaze used on the front and back covers of Midshipman Osborne's published log. From 1990 to 1992 I was fortunate enough to conduct what appears to have been the first original and in depth research on the topic of HMS Topaze and her visit to Rapa Nui in 1868. I studied the records at the Royal Geographical Society and The British Museum with the considerable assistance of staff, including especially then Keeper Dr. Dorota Starzecka. Her diligent digging through jumbled papers in various archives in London was a great help to me in writing the 1992 and 2006 research papers and book (see references below).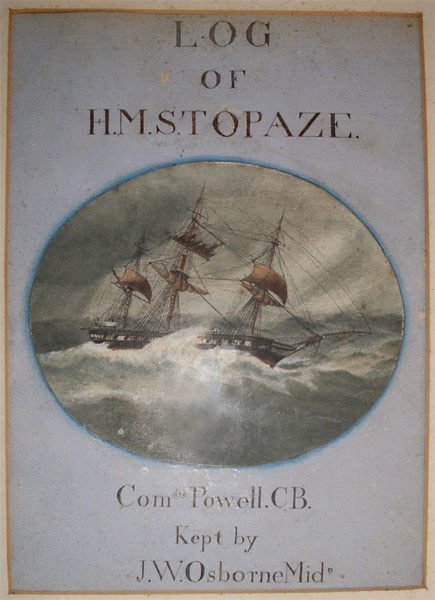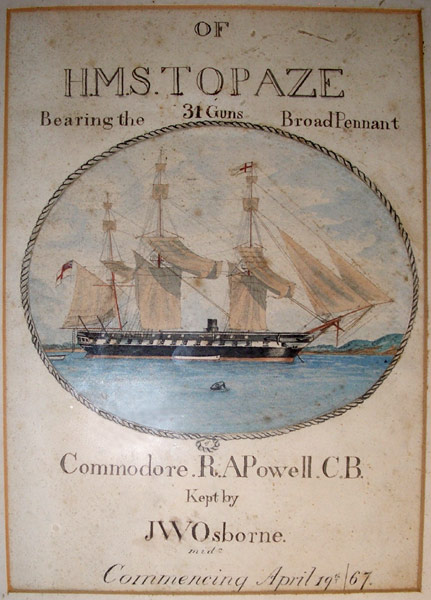 Specifically with regard to your query: Fleet Surgeon John Linton Palmer's painting entitled HMS Topaze "in a difficulty" is in a private collection in Los Angeles. It is important to note that it may be a copy and that multiple copies of his paintings probably exist. Palmer and another Topaze crewman, Marcus Lowther, exchanged preliminary sketches in order that each man may enrich his own work with details picked up by the other. For example, Palmer's painting of Cape Horn and a preliminary study by Lowther of Cape Horn appear to be comparable in detail, and may be studied now through a simple Internet search. The multiple papers we sifted through in 1990 are now very helpfully posted as well.
The recent sale of some of Lowther's watercolors through auction has brought 7 new Rapa Nui drawings to light and encourages further close study of others. In our recent book Adrienne Kaeppler and I have looked at the derivative nature and repetitive subject matter of Victorian era documentation of Rapa Nui and her people. Many researchers, especially in the Rapa Nui community, are very interested in this topic.The families of every Topaze crewman I interviewed or contacted for my biography of Katherine Routledge were unfailingly helpful. Some of the various family contact details are in that volume but, sadly, some family members whose memories I relied most upon have since passed. All of my analog research documents regarding HMS Topaze are included in the Easter Island Statue Project Archive and Database. Specific questions regarding HMS Topaze can be sent to me at my website address, although I can't guarantee being able to answer all of them and would be grateful for new information anyone might be interested in sharing. In any case, many of the questions more recently raised, including your own about the authorship of Palmer's paintings, require diligent study and there are no easy answers.
I am so pleased to have found your website and your research. All the very best with it. Here are some peer-reviewed references that may be of use.
Kaeppler, Adrienne L.
2003 Sculptures of Barkcloth and Wood from Rapa Nui: Symbolic Continuities and Polynesian Affinities. RES: Anthropology and Aesthetics 44:10-69.
Kaeppler, Adrienne L. and Jo Anne Van Tilburg
2019 The Iconic Tattooed Man of Easter Island. Mana Press, Hangaroa, Rapa Nui
Van Tilburg , Jo Anne
1992 HMS Topaze on Easter Island: Hoa Hakananai'a and Five Other Museum Statues in Archaeological Context. British Museum Press Occasional Paper 73. The British Museum Press, London.
2003 Among Stone Giants: The Life of Katherine Routledge and Her Remarkable Expedition to Easter Island. Lisa Drew Books. Scribner, New York.
2006 Remote Possibilities: Hoa Hakananai'a and HMS Topaze on Rapa Nui. British Museum Press Research Paper 158. British Museum Press, London.
Jo Anne Van Tilburg
Director, UCLA Rock Art Archive
Cotsen Institute of Archaeology, UCLA
A 210 Fowler Building 151006
Los Angeles, CA 90095-1510
Director and Principal Investigator
Easter Island Statue Project (EISP)
http://www.eisp.org